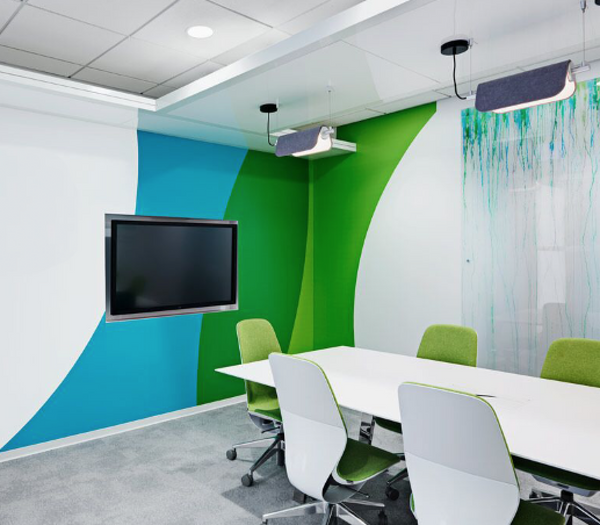 Outstanding Displays
In May 2019, Iain Logan created Inspiration for a fit out for an international innovation space in Houston, Texas. We were so pleased when the team from Outstanding Displays wanted to commission an artwork from us to feature in the design of a modern, modular office fit out that they had won.
Outstanding Displays was responsible for the design, project management and build of the $1m+ office fit out project for a major company with a big presence on the global stage. With such elite status and a budget of this size, it was imperative that the furniture, furnishings and accessories be of the highest quality. "I wanted only the best" said Belinda Grace, chief designer for the project; "I was delighted when I discovered Silverscreen Glass."
Patti met with Belinda from Outstanding Displays, who was inspired by both the beauty and the functionality of Iain's artwork. Belinda then had the brilliant idea to commission Inspiration (1000mm x 2500mm), as well as Thought Bubble. The artworks were ordered along with our other premium glass whiteboards.
Both Inspiration and Thought Bubble were created on consignment as writeable art using her client's brand colours. The deeper colours are stated where there would be less writing. This meant also making the writing space as light as possible. These two pieces were Iain's first overseas order with each fitting lovingly hand painted as individual works of art.
"I love the idea of someone creating over my art – like they're adding to my art or moved to create by my work." – Iain Logan